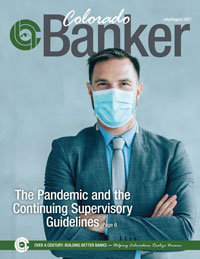 Pub. 11 2021-2022 issue 2
By Jenifer Waller, President Colorado Bankers Association
Bankers are "people-people." What I mean by that is bankers select this line of work because they genuinely care about the people they work with and serve every day. They choose to become – and stay – bankers because they enjoy taking an active role in helping customers meet their goals and achieve their dreams.
By Mike Brown Regional President, Alpine Bank 2021-2022 CBA Chairman
It goes without saying that our customers know the safest place for their money is in a bank. But they also know that the safest place for their personal information is under the watchful eye of their banker.
Inside you will find additional information such as upcoming webinars, conferences, previous events, anniversaries, and more. Take a look through the flip book to see all the extras. You can also download a PDF and save it to read later.