Community Banks have been the backbone of Colorado lending space for many years, and 2020 has created an environment for relationship-style banking to grow at even more remarkable rates. The COVID-19 pandemic revealed that the U.S.'s largest banks could not effectively serve their clientele, leading to an influx of new business for community lenders. While new business is a welcome sight for many lenders, PPP lending and an upsurge in mortgage lending (and all lending) due to low-interest rates have exposed several lender inefficiencies. I have spoken to many lenders in the past few months that are frantically looking to hire new staff to keep up with their increased workload, and in the meantime, are pulling current staff to help with the increased lending pressure. I often hear that one of the first things to get "pushed to the side" during extremely busy times is collateral insurance tracking. When Colorado's record wildfires were added into the mix, 2020 led to large increases in risk for community banks across the state. With bogged down loan operations and increased risk, could now be the time to look at alternative solutions to traditional collateral insurance tracking?

Due to the COVID-19 Pandemic relationship banking has become more challenging as limited lobby hours, staff working from home, and increased workloads have put a strain on operational efficiencies. More and more lenders are considering Blanket Insurance Coverages that significantly improve operational efficiencies by allowing community banks to reallocate staff time to serve their customers better, which is what Community Banking is all about. There are no more calls to borrowers under a Blanket policy, no prodding letters, no loan officer involvement with insurance after closing, and the headache of placing and removing force-placed policies is eliminated. Furthermore, are annoying insurance contacts and expensive force-placed insurance premiums in line with your relationship and service goals?

On September 17th, 2020, the Colorado Division of Insurance re-issued Bulletin No. B-5.38, which directed "all insurance companies issuing coverage to personal and commercial policyholders to make reasonable accommodations to prevent individuals and businesses from losing coverage due to cancellation for the non-payment of a premium during this unprecedented time." This order came during seasons of elevated unemployment and the worst year of wildfires that the state has ever endured. While this order provides some relief to borrowers, there remains an increased risk of uninsured collateral to community lenders in the state. The Division of Insurance does not explicitly prohibit the cancellation of policies due to non-payment. Many Colorado counties have become prohibitively expensive for borrowers to find property insurance (due to year over year fire risk). With three of the four largest fires in Colorado history happening during 2020, community lenders cannot take the risk of uninsured collateral moving forward.

On days where staff time comes at a premium and the risk of uncovered collateral is high, Blanket insurance coverages can simultaneously alleviate multiple problems. Many lenders I meet think that Blanket protection is expensive. Still, Blanket's costs have been coming down due to increased use and underwriting innovations by companies specializing in Blanket protection. Blanket coverages can be fully customizable to a portfolio and are often much more affordable than hiring and training new staff as your portfolio grows. Blanket coverage has now been developed for all portfolios: Residential and Commercial real estate, Consumer loans and Business/Commercial and Ag equipment.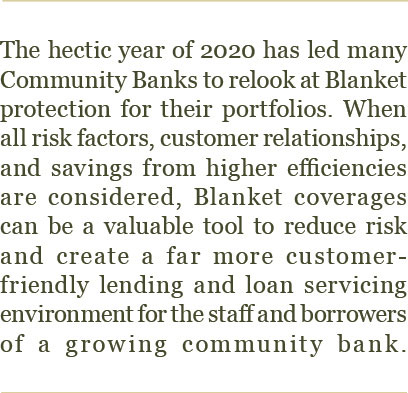 The hectic year of 2020 has led many Community Banks to relook at Blanket protection for their portfolios. When all risk factors, customer relationships, and savings from higher efficiencies are considered, Blanket coverages can be a valuable tool to reduce risk and create a far more customer-friendly lending and loan servicing environment for the staff and borrowers of a growing community bank. To continue to be the leader in banking in your community, efficiency and high customer service levels will be key. If your staff has become stretched as your portfolios have grown, consider Blanket protection as a powerful option as 2020 ends and you look forward to 2021.
Jim Perry, Vice President, Regional Business Development, Golden Eagle Insurance