A new degree program and innovative pathways jump-start college careers while upgrading a workforce for the in-demand financial-services industry
If you've deposited a check by taking a photo on your phone, transferred money to a friend's bank account using a mobile app or been greeted at a brick-and-mortar bank by a person pointing you to a row of ATMs, you might wonder what the job outlook is for someone in the banking industry.
But behind all that technology is a growing labor force of financial advisors, compliance officers, risk analysts and, of course, information technology professionals. Thanks to a new banking program and innovative community partnerships, Metropolitan State University of Denver is preparing a new generation of bankers for all of these roles. And the University's College of Business is doing it with the help of the banking industry itself, said Rey Hernández-Julián, professor of finance at MSU Denver.
"We invited representatives from banks to campus and they said, 'This is what we're looking for in a banking degree. If you gave someone this skill set, we would want to hire them,'" Hernández-Julián said.
So MSU Denver developed a new bachelor's degree in banking — the first of its kind in the state and one of few nationally — to provide the in-demand skills the banking industry needs in a big way.
A brief from the Metro Denver Economic Development Corp. shows more than 100,000 employees at nearly 15,000 companies in metro Denver's financial-services industry. Some 40,000 of those jobs are in banking and finance — almost enough people to fill every Coors Field seat.
The same report revealed that machines aren't replacing humans — financial-services jobs grew by 7.5% nationally between 2012 and 2017 and more than 10% in metro Denver in the same period. But technology is displacing entry-level jobs in favor of more advanced positions, says Andrea Stiles Pullas, director of strategic initiatives at Mi Casa Resource Center. This community organization promotes economic mobility through job training and other resources.
"This industry is growing jobs that require a college degree by 57% in the next few years, while the jobs that don't require a degree are shrinking," Stiles Pullas said.
Enter the Community College of Aurora and MSU Denver. Together with Mi Casa, the schools have crafted new education tracks that include job training, certificates and a specialized degree for those who want to join or move up in the financial sector.
"We're looking for ways to help job-seekers — both students and incumbent workers already in the industry — to earn credentials in a modular fashion, at their own pace so that they can balance work and life and study in a more manageable way," Stiles Pullas said.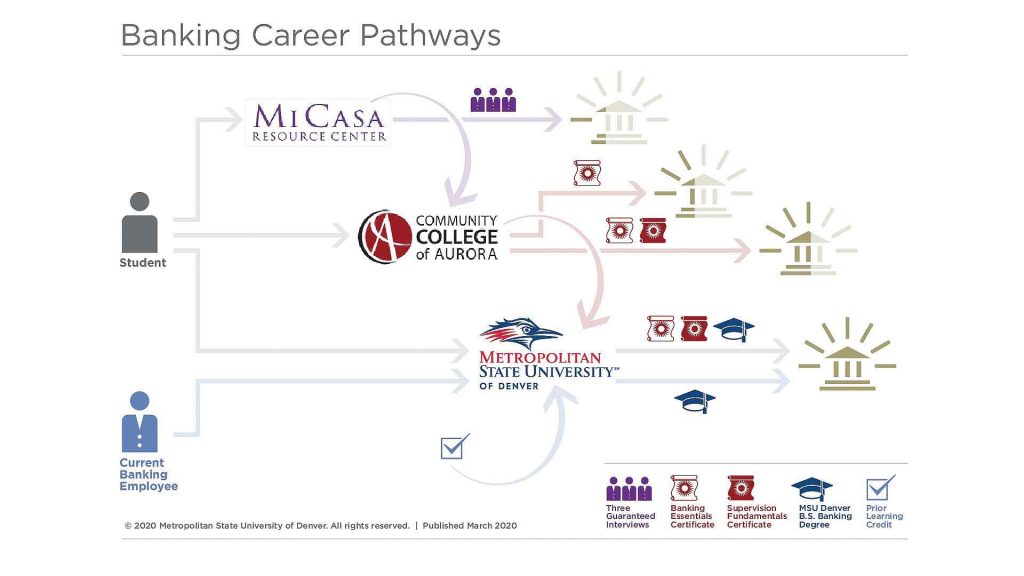 The credential pathway developed by MSU Denver, Mi Casa Resource Center and the Community College of Aurora provides multiple places to start or finish education in banking for community members, traditional students or current banking employees. Illustration by Scott Surine
Illuminating the path
Nationally, four of every five jobs lost during the 2007-09 recession required a high school diploma or less, according to the Lumina Foundation, and those have been replaced by jobs requiring more education. Only about 40% of American adults have postsecondary credentials, and Lumina's goal is for 60% of adults to have a postsecondary certificate, degree or other credentials by 2025.
That's why Lumina invested a $450,000 grant into the partnership among Mi Casa, CCA and MSU Denver to build a first-of-its-kind pathway for adult learners in the financial services industry.
Mi Casa operates a four-week training program to help connect people to staff roles in banks and credit unions. Participants earn up to nine college credits at CCA in the process and are guaranteed three job interviews after completion.
Those who complete the Mi Casa program can complete seven more credits at CCA to earn a banking-essentials certificate, designed to provide all the skills someone would need in their first two years of retail banking employment. CCA offers another 16-credit certificate called supervision fundamentals, which people can complete as they're climbing the ladder at work.
All 32 credits gained through the Mi Casa and CCA programs can be applied toward MSU Denver's new banking degree, designed in collaboration with representatives from the banking and credit-union communities to develop an industry-responsive curriculum.
Those already working in the field who don't have a degree can enter the pathway at CCA or MSU Denver and take exams to earn prior learning credit — earning college credit for what they already know before taking a class.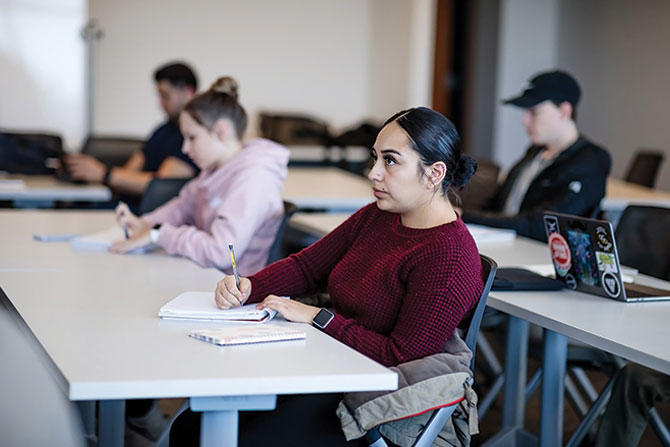 MSU Denver student Jade Gomez takes notes during one of the first Intro to Banking courses offered at the University. Photo by Alyson McClaran
MSU Denver President Janine Davidson said, "We're eager to engage with industry partners to develop workforce pipelines that benefit our students and guarantee employers can find the talent they need, right here in Colorado. Companies know they're getting quality employees when they hire MSU Denver graduates, most of whom work while in school and can hit the ground running after graduation."
Jenifer Waller, president of the Colorado Bankers Association, said MSU Denver's new program is an excellent step toward assisting financial institutions in growing the talent pool it needs to pull from.
"We are thrilled about this new development for Colorado's banking workforce," Waller said. Those of us in the industry know-how rewarding a career in banking can be — not just with rates of income and good benefits but also with the impact bankers make in their customers' lives. We are excited for new ranks of bankers to find that out for themselves."
Waller added that bankers' opportunities are more varied and multifaceted today than ever before – not just for new bankers but for experienced bankers, too.
"Many banks offer continuing education benefits and help employees with schooling expenses," Waller said. "This new program is going to open a lot of doors for a lot of people."
Concentrating on the future
MSU Denver's banking degree includes courses on banking operations, risk analysis, financial markets and personal selling. Hernández-Julián, who taught the first Intro to Banking course at the University last fall, said the students in the first cohort were eager to help shape the class.
"It isn't a course that's commonly available, where you can grab a textbook off the shelf and teach the course. It's a pretty new set of concepts and ideas, so there was a lot of learning by doing," he said.
Alec Sheeder is on track to be MSU Denver's first banking graduate in spring 2021 after switching his major from finance. He is interested in underwriting and has a concentration in financial analysis, one of two optional concentrations within the banking degree, along with compliance.
"I wanted to go into banking because banks populate our lives — they're everywhere," Sheeder said. "I felt like it was a practical area that will always be in demand, and if there's something I can do to make banking easier or better for everyone, that will be a great thing."
Matt Watson, Strategy, Marketing and Communications,
Metropolitan State University of Denver