As Colorado bankers and their customers have worked to navigate the "new normal" brought by the COVID-19 pandemic and its related precautions, CBA is working relentlessly to ensure Coloradans are informed, supported and cushioned from potential negative economic impacts.

CBA has produced 26 webinars since March, bringing information to more than 800 attendees, the bulk of which tackled COVID-19 and adjacent issues. Bankers have received dozens upon dozens of mass emails on topics surrounding COVID-19 and others, garnering attention from even non-member bankers who relied on CBA for the most up-to-date and accurate information.

One banker wrote to me saying, "You have been one of my two 'go-to' sources for information and confirmation of what 'I think I know' during the PPP roll out. God knows, SBA was not a source of information. Colorado Bankers made one heck of a difference for our bank."

A number you might find most exciting, though, is that despite a challenging economy, CBA's membership ranks grew; we added two new banks and three associate members. That tells us not only that our work is hitting the mark of assisting our members, but that others are watching, seeing our value and validating your continued investment in this organization.

CBA has also been focused on a slew of important issues impacting your bank and your customers. While the Colorado state legislature was in session, CBA worked successfully to block the introduction of a bill seeking to ban or restrict foreclosures and amended another bill seeking to limit debt collection amid the COVID-19 pandemic and beyond.

An informational white paper CBA created regarding the negative potential of a state or municipal-owned bank assisted in blocking a bill seeking to create such an institution, though we expect the concept will return next session. On every issue in which CBA engaged, we were successful in blocking or greatly mitigating negative impacts, and the winning streak continued on issues specific to banking. Only once did we not completely hit our mark; the exception was a proactive bill regarding Colorado's Unclaimed Property Act and related escheat laws, as this bill was written and promoted by CBA passed the Senate unanimously but died in the House as a result of Legislative limitations due to COVID-19. We will carry the bill again next year and have high hopes it will have a smooth path to becoming law.

Speaking of COVID-19, CBA efforts ensured banks could continue to serve their customers amid a statewide business closure by deeming bankers as essential workers. The safety of bank employees and customers was made concrete when CBA worked with the Governor's office to permit financial institutions to require customers to briefly remove their face masks amid statewide mask requirements, to establish identification.

With dozens of major issues boiling and frequent shifts in what is the "problem of the day," CBA is staying on top of the federal issues, advocating your interests assertively, coordinating with bankers associations nationwide for maximum impact and reporting relevant info back to you. As you'll read in our Chairman's column, also in this issue, efforts by CBA and others were successful in securing a delay in implementation of a strongly maligned 50 bp increase in GSE loan refinance fees. That gives us more time to fight the increase, which is opposed by several members of Congress and by President Donald Trump, in addition to bank industry advocates, consumer groups and others.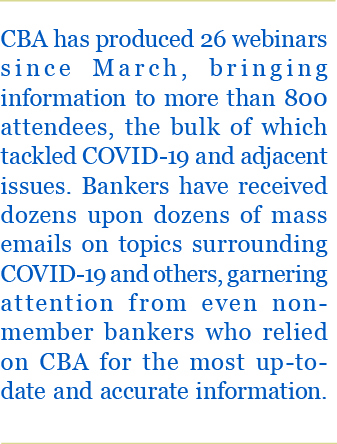 We at CBA are proud of the work we are doing to assist our members in fueling Colorado's economy, but we are most proud of our members and the work they do in their communities every day. We relish the opportunity to support and promote them.

Colorado bankers have never shied away from a challenge — quite the contrary; they run toward it and face it head-n. Together, CBA and its members have created two new task forces to tackle both new and ongoing challenges in the banking and business communities at large. One group is focused on banking-specific issues, including economic stimulus, the overall economy and COVID-19's effect on bank operations. Already, 10 separate webinars are planned for later this year on topics including tourism, oil and gas, agriculture, commercial real estate, residential real estate, retail, business failure and lost jobs.

The second group has tasked itself with improving diversity and inclusion in Colorado's banking industry. Its work will focus not only on establishing resources for CBA member banks to use in creating more diversity and inclusion in individual banks but also on creating an environment that attracts diversity in applicants for bank jobs, specifically high school and college graduates.

And the work will not end there. Efforts are already underway to ensure bankers on CBA leadership groups — including board and GAC — will more accurately represent growing diversity in the industry.

Our industry already has a strong foundation. The changes we are making will have long-lasting positive implications. And I know the challenges and changes we are facing today are solidifying infinite possibilities for tomorrow.

As H. Jackson Brown Jr. said, "The best preparation for tomorrow is doing your best today."

CBA's members can rest assured they are getting our best every day, just like Colorado bank customers get the best from their bank every day.
Don Childears, CEO, Colorado Bankers Association